The children who come to Little Lambs School come from various backgrounds, but the majority are from very poor homes. Some of them have learning difficulties and have failed in other schools, some have never been sent to school and are therefore "too old" to get admission somewhere else, some just need the support and encouragement that Little Lambs offer them. Here are some examples of students: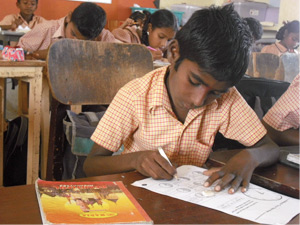 Pradeep used to sell fish on the roadside, when our social worker saw him and asked if he didn't want to join school. His two sisters and brother came along as well! Pradeep learns English with Std 1, but can join Std 3 in Maths and Tamil, since he has had a bit of schooling earlier. He is very interested in school and learns fast!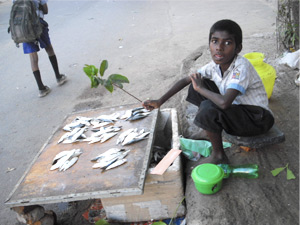 Jason has some learning problems and needs a lot of extra help with his reading and writing. Thanks to volunteers, he gets extra attention and also some help through computer programs.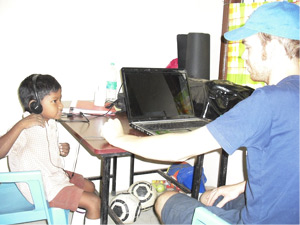 Clayton always used to skip classes, when he was in another school. His father (see photo) could not handle the situation and instead of going to school, Clayton was on the roads with gangs of boys who take drugs and sniff glue. At Little Lambs he really enjoys school, because of interesting classes and no beatings.